Lea DeLaria is more than just "Big Boo' Black" in Orange Is the New Black—she's a downright LGBT saint.
Lea DeLaria, the kick-ass two-time SAG award winning actress, comedian, jazz musician and LGBT trailblazer will host the 6th Annual StartOut Awards on Friday, October 6th at the St. Regis in San Francisco.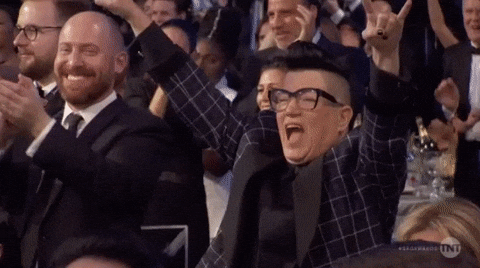 Although Lea's claim to fame was as "Carrie 'Big Boo' Black" on Orange Is the New Black, for decades she has been an out and proud performer and musician.
Lea DeLaria holds the honor of being the first openly gay comic on TV in America. Being out and proud on the silver screen led to countless TV and Film roles portraying lieutenants, PE teachers and the thirsty Lesbian who can't stop hitting on straight women.
Lea's has appeared on shows that we all love like Broad City, Baroness Von Sketch,  The Jim Gaffigan Show, Awkward, Clarence, Californication, The Oblongs, One Live to Live, Law and Order: SVU, Will and Grace, Friends & Matlock." She has acted in films like: Cars 3, Support The Girls, First Wives Club, Dear Dumb Diary, and Edge of Seventeen.
Lea DeLaria is an Outspoken Champion of LGBT Rights
Portraying 'Big Boo' on Orange Is the New Black showcased her own experiences as well as Boo's. Lea spoke out about the double standards in the LGBT community against butch lesbians and feminine gay men.
While talking to the Television Critics Association Lea Delaria said: "Butches have a shared life experience, and you saw all of it in Boo's backstory. My own community ostracizes me and thinks of Nelly Fags and Butch Lesbians as sort of the pariahs of the community."
Lea then highlighted how she was different to her character's backstory: "My parents actually learned, they actually listened to me, they actually became people who understood that being uncomfortable within my own skin and having no apologies for who I am was an important thing in this world."
Watch that time when Lea Delaria out-preached a NYC subway preacher
https://outbuzz.com/wp-content/uploads/2017/08/lea-delaria.jpg
570
854
OutBuzz Staff
https://outbuzz.com/wp-content/uploads/2017/06/logo_outbuzz_1.png
OutBuzz Staff
2017-08-16 20:07:10
2017-10-30 09:28:45
Lea DeLaria, Unapologetic LGBT Trailblazer, to Host StartOut Awards