We get it, you have a boyfriend and want the entire world to know you're the yin of someon's yang—especially on Halloween
Halloween is basically one big gay pageant where you get to flaunt your creativity, how hard you worked out at the gym and how you finally snagged that boyfriend who validates you. What better way to celebrate than to wear a couples costume with your boyfriend? 😉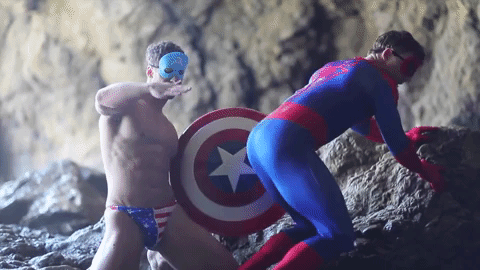 We've put together a list of Halloween costumes for gay couples to help spark your creativity (and maybe even your love life;) ! Dot't worry if you're single, these costumes also work with your bestie.
Game of Thrones
These sexy Game of Thrones fans impeccably dressed up as Jon Snow and Ser Lancei Lannister. That's one hot scene we wouldn't want to miss!
Gold Masked Men
This would work with any two parts that make a whole. Awwwww.
Football Players
We know, you BOTH have tight ends, right 😉
White Girls
"You got a problem? What you looking at my ass for? Hold my poodle. Hold my poodle!"
Undead Boyfriends
Coifs like that can kill!
Gladiators / Spartans
If you got it, flaunt it. Wow.
Alice & Wonderland
Neil Patrick Harris and fam show how adorable it is when an entire family gets in costume. Kinda makes us feel like our biological clock is ticking! 
Where're Waldo(s)?
Why look for one Waldo when you can find two? Adorable.
Wonder Woman & Super Girl
Show your love and freedom from gender stereotypes and dress up as Wonder Woman and Super Girl. Love this. 
Tourists
Easy, breezy and you can dress up or show as much skin as you'd like.
Banana Men & A Little Chimp
We could eat these guys they're so adorable with their banana costumes together with their son as a little monkey. So cute!
Krispy Kreme Men
Everyone will want to taste that Kreme!

Mickey Mouse Costumes
You can get into a whole Mickey Mouse costume this Halloween, or just put on the ears, gloves and little else.
It works with shirts too!
My Little Pony
Friendship is magic!
Wild Boars
Wow. Creative, original, sexy and scary. Blown away.
Cruela Deville & His Dalmation
We love this twist. Add 1 part drag with 1 part cos-play and you have a fabulous fun gay couple's costume.
Poseidon Bros
A mythic costume for these gods of the sea.

Top Men: Maverick and Goose
These boys feel the need for speed.
Baseball Players
You can dress up or dress down as long as everyone knows who belongs to whom.
Prince Charming
Swoon!
Toy Story
These dads are the coolest! Their kids may be dressed as Batman, Flash and Spidey, but these dads are the real super heros here. They went all out and dressed up as Buzz Lightyear and Woody. #LifeGoals
Twister
Because everyone loves being told where to put their hands.
Thing 1 & Thing 2
We're not sure if this is what Dr. Seuss had in mind, but we like it!
Sexy Cheerleaders
Works as a couple and for the whole squad!
Sailors
Everyone likes sea men!
Batman & Robin
It doesn't get more gay couple's costume than this! Use body paint to give it a sexy new twist.
ManChic
Or just buy the regular costume 🙂
Dead Chic
Zombies have never looked so delicious.
Lucha Librador
Put on your mask and show off your Mexican fighting skills.
Strappy Warrior Fantasy
You're sure to conquer some hearts in this fierce strappy harness warrior chic look.
acecee_
Sexy Boy Scout
Make sure to show off your Power Bottoming and Deep Throating merit badges that you worked so hard on!
 Pikachu & Ash Couples Costume!
So cute! Because you only really need to catch one 😉
Or Both of You Pikachu
Mario & Luigi
If we're already talking about adorable couples costumes, a sexy Mario & Luigi couple is sure to turn heads.
Works for twinks…
Steven Dehler
Hot leather daddies.
And handsome guys that prefer to show less skin…
Super Mario Turtles
They may give out coins but they'll kill you!
https://outbuzz.com/wp-content/uploads/2017/10/gay-halloween-couple-costume_feat.jpg
492
940
OutBuzz Staff
https://outbuzz.com/wp-content/uploads/2017/06/logo_outbuzz_1.png
OutBuzz Staff
2017-10-14 23:42:31
2017-10-30 09:26:53
Halloween Costume Ideas for Gay Couples from Adorable to Scandalous