Gay Guys Smoking Weed Together Is the Perfect Bonding Experience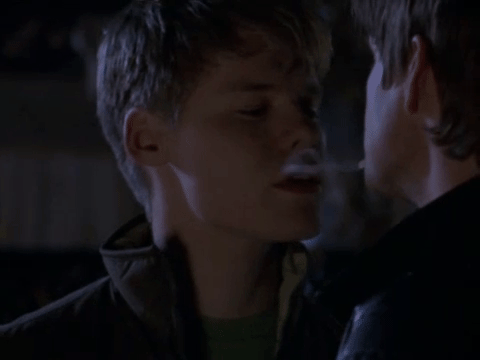 After a long day at work, or even just a Saturday afternoon, smoking pot with your boyfriend is one of the best transitions to chill.
Smoking pot is the new glass of red—just ask the boys of California where they legalized marijuana for recreational use back in November.
Some guys are appalled at the thought of doing any drugs—if this is you, proceed to a state where smoking pot is legal, and just chill (you'll thank us after)! Stoners really do make great boyfriends.
Smoking weed together with your boyfriend is an awesome bonding experience. It gets you in the mood to be sensual and more open. A lot of guys get more sexual and have better sex when they smoke pot—and a healthy sex life is key to a healthy relationship. When boyfriends smoke together, it forges a stronger bond by having a shared experience together.
A boyfriend that smokes pot is probably open to trying new things and less uptight. He's more in touch with his sensitive side and will probably be good in bed. According to a 2014 study, weed was shown to be linked to lower rates of domestic violence in couples. Who wants to fight when they're stoned?
One company took sex while stoned to another level with marijuana-infused lube. While the pot product is designed for vaginal use, we're curious if guys could use it up the back door. If you've tried this, let us know! "He placed about 4 sprays on me and it was ON ALL NIGHT LONG… THANK YOU FOR CREATING THIS PRODUCT !! Orgasm was amazing !!! My Bf was very pleased over and over again!! Lol" read one Foria product review.
https://outbuzz.com/wp-content/uploads/2017/04/boyfriends-smoke-weed.jpg
492
940
Brett Andrews
https://outbuzz.com/wp-content/uploads/2017/06/logo_outbuzz_1.png
Brett Andrews
2017-04-20 11:50:14
2017-04-24 10:21:03
Because Boyfriends That Get Stoned Together Stay Together